LB3000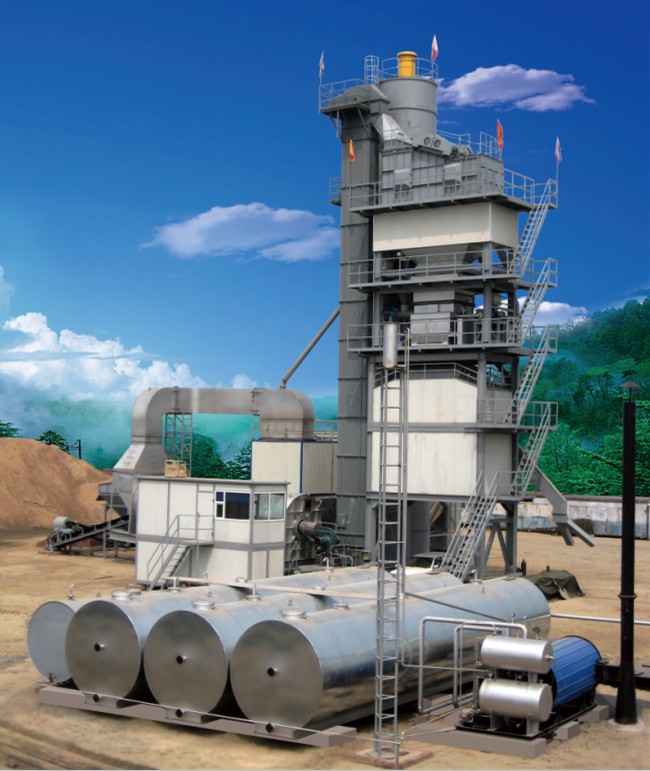 Technical Features:
● Each cold feed hopper has remote feed control, which ensures the accuracy of feeding and weighing.
● Reasonably designed and allocated vanes in the mixing drum ensures sufficient burning and aggregate heating.
● It adopts low oil pressure atomization combustible heavy oil residue burner, which is economic and reliable.
● The cleaning device ensures optimal working status of the bag filter, and ensures efficient continuous production capacity.
● It adopts bag made of Dupont NOMEX materials with high temperature protection function, which keeps the temperature in the optimal control range.
● The double shaft linear vibrating screen, which is designed through finite element dynamic mechanics analysis conducted by Canada Academy of Sciences, has high screening efficiency.
● The double-shaft mixer is made of special wear-resistant materials, and it has inspection hole and SMA interface.
● The bitumen weighing adopts dynamic tracking measuring method for accurate measurement.
● With manual control, semi-automatic and full-automatic control system, it has been used with hundreds of asphalt mixing equipment.
● The control system has self-diagnosis function. When the system detects equipment failure or abnormal conditions, the computer will activate the protection system and meanwhile warn the operator at the display screen.

LB3000(bin under mixer)
Production capacity (t/h)
200~240
LB3000(

bin aside mixing tower

)
Production capacity (t/h)
200~240
Mixing drum capacity (kg)
3000
Mixing drum capacity (kg)
3000
Mixer power (kw)
2×37
Mixer power (kw)
2×37
Hot storage bin (m3)
25
Hot storage bin (m3)
25
Cold materials system
Hopper amount
5
Cold materials system
Hopper amount
5
Hopper volume(m3)
15
Hopper volume(m3)
15
Feeding width (m)
3.6
Feeding width (m)
3.6
Dryer drum
Diameter×length
2.5×9
Dryer drum
Diameter×length
2.5×9
Drive power (kw)
4×22
Drive power (kw)
4×22
Bag filter
Area (m2)
896
Bag filter
Area (m2)
896
Power of exhaust fan (kw)
132
Power of exhaust fan (kw)
132
Hot vibrating screen
Screen layer
4.5
Hot vibrating screen
Screen layer
4.5
Drive power (kw)
2×15
Drive power (kw)
2×15
Mixed materials storage bin
Volume (m3)
50
Mixed materials storage bin
Volume (m3)
120
Volume of waste materials bin (m3)
6
Power of skip motor (kw)
55
Bitumen heating & storage system
Hot oil heater (×104kcal/h)
50
Bitumen heating & storage system
Hot oil heater (×104kcal/h)
50
Discharge chute (L)
10,000
Discharge chute (L)
10,000
Bitumen tank (L)
3×50,000
Bitumen tank (L)
3×50,000